Follow the path of three free webinars designed by TechSoup, Google and Euroconsumers to increase the digital skills of Non-Profits on cybersecurity and privacy
Belgium | Italy | Portugal | Spain
October - November 2021
October 28 2021
11 am - 1 pm
Account privacy
& security
November 11 2021
11 am - 1 pm
What is and how to protect your organization
November 25 2021
11 am - 1 pm
Against fraud
keep control
Do you work for a non-profit organization?
We are waiting for you online!
Webinars are reserved for operators, collaborators or volunteers of non-profit organisations. We want to help the non-profit sector to increase its digital maturity and enrich its communities and territories with their know-how. We believe that a more tech-aware and digital conscious Non-Profit generates a positive impact on the whole society.
Account privacy & security
Gain a clear perspective on the challenges of cybersecurity and privacy at the current historical juncture. Learn how to distinguish between security and privacy issues and learn the basics. Learn the skills needed to protect your identity and your non-profit organisation online.
1. Welcome del team di TechSoup
2. Introduzione a cura di Google e Altroconsumo
3. Tavola rotonda su Account Privacy & Security
Interviene: Ginevra Cerrina Feroni, Vice presidente del Garante per la protezione dei dati personali
4. Training base da parte del team di TechSoup
Intervengono:
Paolo Fornasari, IT & Security expert TechSoup
Alberto Almagioni, IT Manager Emergency

5. Q&A
Would you know how to recognise a phishing attack? During the webinar you will learn how to protect yourself when a hacker, disguised as a trusted entity, can trick you into opening an email, instant message or text message to steal user data, including login credentials and credit card numbers.
1. Welcome del team di TechSoup
2. Introduzione a cura di Martina Colasante, Google e Federico Cavallo, Altroconsumo
3. In dialogo con Vincenza Bruno Bossio, deputata
4. Training base con Paolo Fornasari, Security Expert TechSoup
5. Q&A
Cybercrime involving the use of a computer as a tool to pursue illegal ends, such as committing fraud, trafficking in child pornography and intellectual property, identity theft or invasion of privacy, is on the rise. Know how these frauds are perpetrated and learn how to protect your non-profit organisation and the people involved.
1. Welcome del team di TechSoup
2. Introduzione a cura di Martina Colasante, Google e Fedeerico Cavallo, Altroconsumo
3. In dialogo con Ivano Gabrielli, direttore servizio Polizia Postale 
4. Training base da parte del team di TechSoup
5. Q&A
Take the test and get two hours of free support with TechSoup
The webinar won't leave you hanging!
At the end of each session, we will distribute a self-assessment test on the topics covered. You can keep it as internal or if you want you can return it filled out: we will select the most comprehensive answers and you will have the opportunity to get two hours of free brainstorming with our trainer. A simple and practical way to put into practice what you've learned.
Receive and fill in the test
Together with Belgium, Portugal, Spain
The webinar series will be held in 4 European countries
Belgium, Italy, Portugal, Spain: these are the countries where Non-Profit organizations will be able to follow the series of 3 free webinars designed by TechSoup and Google with the aim of increasing the digital skills of the people in your Non-Profit organization on privacy and security issues.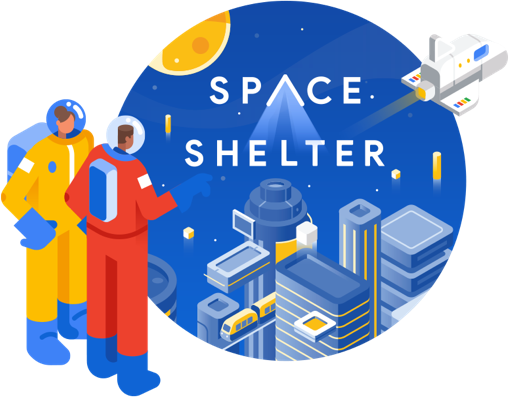 Train your skills with the web game by Google and Euroconsumers
You can exercise your know-how by playing Space Shelter, the web game developed by Google and Euroconsumers as an educational initiative aimed at everyone on privacy and security issues.
Space Shelter is a game that takes you on a journey through the stars: your mission is to cross the galaxy in your spaceship and dock safely at the Space Shelter base. To do this, you must master the spaceship's security systems, protect the access code, operate the shields and avoid the space pirates.
TechSoup is a Non-Profit initiative that allows Non-Profit organizations in 236 countries in the world to have access to technology at sustainable costs or totally free of charge.
Non-Profit organizations can register for free at techsoup.it and be recognized as beneficiaries of exclusive discounts and benefits on products and tools of the major IT and digital brands, including Google. 
Google collaborates with TechSoup in this initiative in order to help train non-profit organizations across Europe on online security.
In Italy there are now more than 19,000 non-profits registered at techsoup.it.
We are waiting for you on board!
This initiative is also available in Belgium, Portugal and Spain thanks to: